During the 2010 Teaching with Technology Idea Exchange (TTIX) conference we presented TwHistory to a group of educators — and then we sank the Titanic with them. In less than an hour our attendees researched and then used a set of Twitter accounts to represent the final hours of the Titanic from the perspective of several key historical figures present at the event. We used several online sources prepared ahead of time, as well as a shared Google Spreadsheet to create and organize a narrative built with over 100 tweets, starting from the point when the ship struck the iceberg until it sank several hours later. You can see our Titanic tweets here.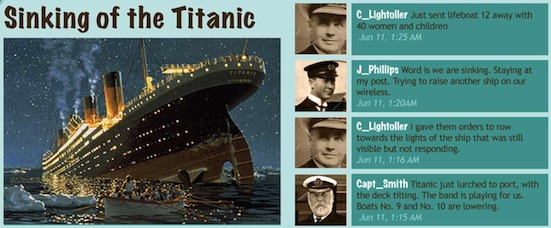 We were thrilled at the response from the Titanic mini-reenactment, and we are interested in creating a fully developed TwHistory reenactment of the final voyage of the Titanic to commemorate the 100th anniversary of that event in April 2012 (Join the ) We feel this is a new and exciting way to learn history by watching the events unfold in real-time. We also see opportunities for students to learn to think more deeply about history by participating in creating TwHistory reenactments with their classmates. They will learn how historical narratives are made.
As you may already know, TwHistory entered the Pepsi Refresh Everything contest in an effort to fund the creation of more virtual reenactments as well as lesson plans to help teachers use them with their students. This work will include an example reenactment: the final voyage of the Titanic. Last month TwHistory was a runner-up and was given an opportunity to compete again in October. This month we are ranked even higher (currently #9 out of over 1000 ideas). We are half way through the month, and we need your help to stay in the top 10 and win! Please vote daily for us and our partners until the end of October. You are allowed to vote 10 times each day for 10 different projects. We have set up a voting page to make it easy to vote for all 10 projects every day: http://big10alliance.org. You can use your Facebook account to vote, or you can sign up for a Pepsi voting account — or you can do both and help us even more! If you would like a daily reminder link, please follow @tom4cam on Twitter or Tom Caswell on Facebook. Thanks for supporting TwHistory!