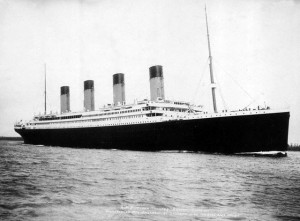 Ladies and gentlemen. The Titanic will sail again…and then it will sink again!
We are presenting TwHistory at two conferences this week (TTIX and GLS). We will explain how a TwHistory event can be coordinated, and then we will demonstrate it by asking participants to create tweets around the sinking of the Titanic.
If you would like to be updated on this event, please follow @TwHistory. This event will happen June 10th, 2010. Hope to see you there!
UPDATE: The Tweeting from the Titanic presentation was a great success! Video from the presentation (part 1) and the hands-on demo (part 2) is now online. The Prezi presentation slides and the are also available. We are planning a similar hands-on TwHistory workshop for Wednesday, October 27th at the 2010 AECT International Convention in Anaheim, CA. Participants will create tweets in a reenactment of the Cuban Missile Crisis. We hope you will join us!